Volvo's Autonomous Commuter Pod Concept Lets You Spend More Time Working
Home → Life Style →

Volvo's Autonomous Commuter Pod Concept Lets You Spend More Time Working
Perhaps more than any other automaker besides Tesla, Volvo has embraced the idea of autonomous cars. The latest manifestation of that enthusiasm is this 360c concept, an electric driverless pod designed to explore the possibilities of Level 5 autonomy—the highest tier, which requires no input whatsoever from a driver other than entering a destination.
And wouldn't you know it, one of the key benefits is that freed of the responsibility of driving, we'll be able to work more and commute longer distances. As Volvo enthuses, the 360c is "an autonomous driving, fully functional, connected, comfortable, mobile office space." A key benefit is that it will allow workers to commute farther, as they will be "less reliant on proximity to cities."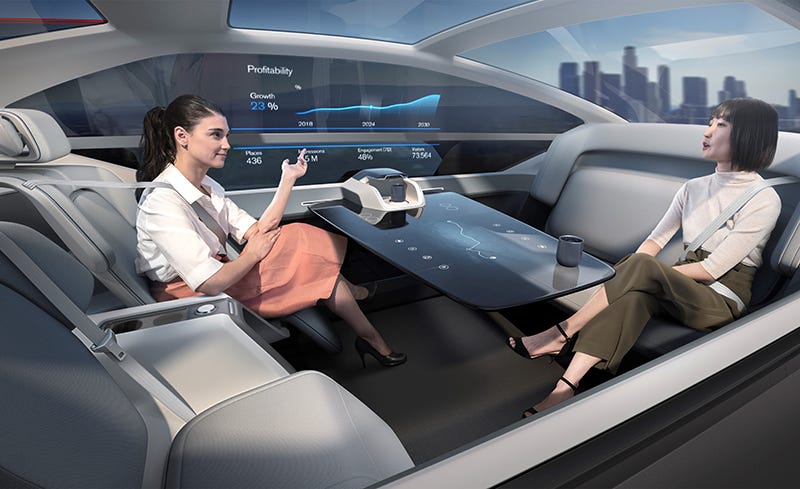 Besides being a mobile office, the 360c also can be configured for less productive activities such as napping. This function might be useful in autonomous cars' other disruptive possibility: replacing short-distance air travel.
Before autonomous cars can seamlessly ferry snoozing travelers or laptop-engrossed commuters, however, some protocol needs to be established to get them to communicate their intentions to other road users, similar to the way human drivers learn to read signals from other drivers. With the 360c, Volvo proposes a means of communication via lights, sounds, and moving elements, which the company hopes all automakers can agree on in order to create a single industry standard.
What about the car itself? There's little information given beyond the fact that it's fully electric. The overall shape of the car almost appears to be unidirectional aside from two finlike wings at the rear. The images show gullwing doors; the seating can be configured so that passengers face each other, a deployable work table, or beds. Unsurprisingly, Volvo has addressed the safety concern of reclining passengers not being effectively protected by three-point seatbelts; the concept uses a "special safety blanket" that restrains passengers who are lying down.
Really, though, the design of the 360c seems to be the least important issue. That's because Volvo is looking beyond automobiles. As the company says: "The 360c represents Volvo Cars' vision for a future of travel" that "may allow Volvo Cars to enter new growth markets."